Entering the US Tech Market from Europe
Overview
Southwest England-based Orthogon Systems was a pioneer in point-to-point fixed wireless broadband communications. Founded by executives from Nortel's fixed wireless R&D center, they had a unique value proposition that is still valid today. Its product sustains reliable wireless broadband connections. It does so over significant distances and through obstructed lines of sight. Think trees, hills, buildings. Orthogon is the only vendor with a product that meets this common broadband market need. After the patented OS-Gemini wireless Ethernet bridge began shipping, quarter-to-quarter sales started to lag. So pressure was on from the board and VCs. Orthogon Systems needed a much larger total addressable market and a plan to penetrate it. They needed marketing plans and tactics for entering the US tech market from Europe.
Challenge
Entering the US Tech Market for Broadband Equipment –  a Crowded, Noisy Market
Orthogon Systems faced significant challenges when entering the US market, including:
No infrastructure or contacts in the US. They had no visibility and no experience breaking into new markets. Never mind entering the US tech market from Europe, which is a large and complex US market.
A noisy, crowded broadband wireless infrastructure market. It was dominated by large global networking companies. And at the time, it was experiencing a flood of new entrants driven by a wave of new venture capital investment.
Limited cash flow. In addition, they needed to meet major milestones before more investment was plausible. So expansion and tapping into the US market from Europe was on a tight budget.
Grow Fast with Successful Entry into the US Market from Europe
Approach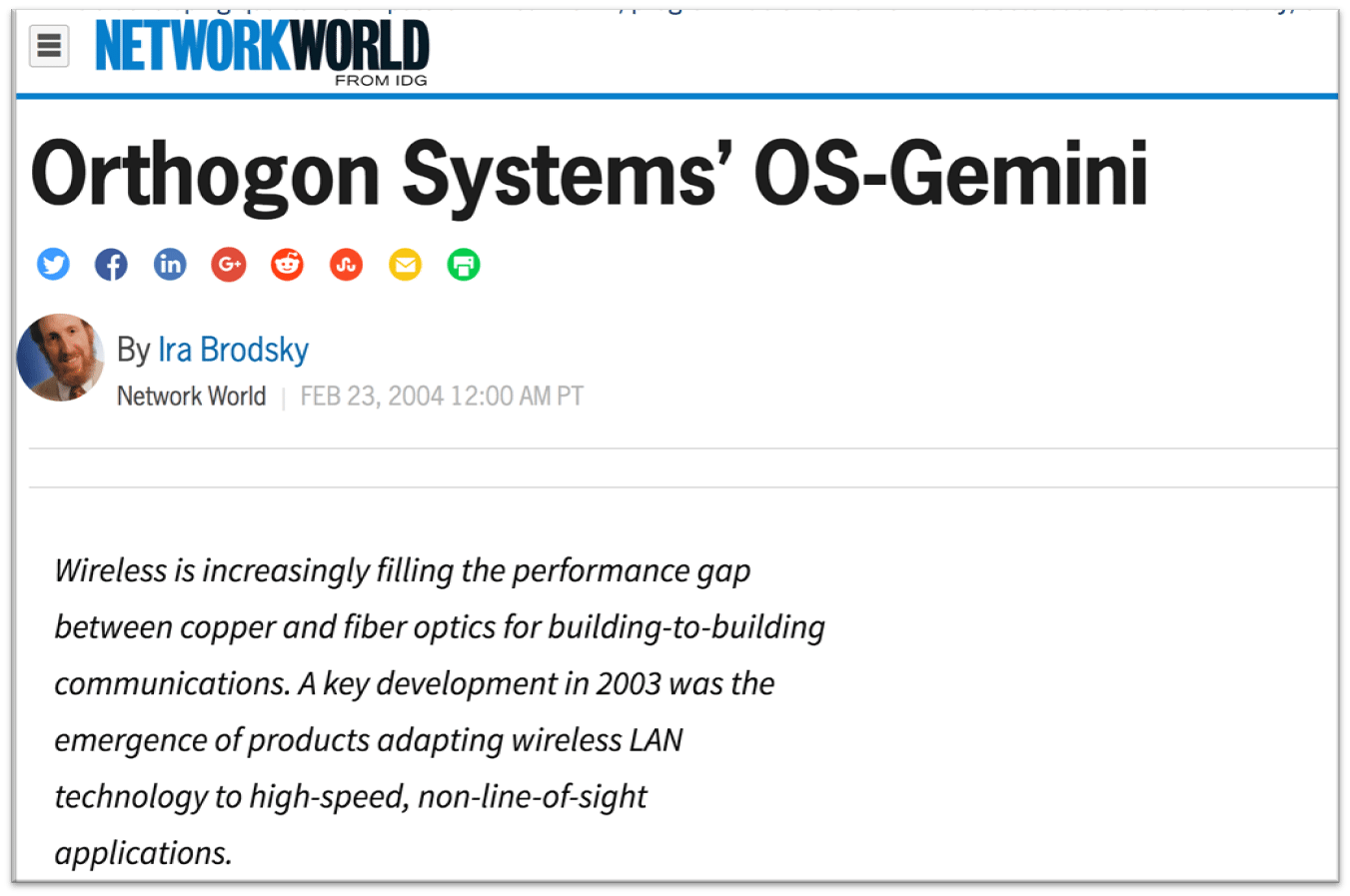 Develop Awareness and Demand with End Users and Resellers
Orthogon Sytems hired a seasoned executive chairman to set up a lean, high-performance sales and marketing engine. To support his newly-formed superstar sales team, he hired us to build the marketing infrastructure and drive demand in two segments. Entering the US tech market meant reaching end users and then the large reseller community.
So marketing focused on four main areas:
Positioning, segmentation, and messaging. Orthogon Systems had an excellent, deep technical message that explained how its product worked. While important for credibility among very technical audiences, it was not suitable for less technical buyers.
So to get started, we ran a messaging exercise to uniquely position the company and products. Research targeted both the influencer community and buyers. Next, we helped them identify its top customers segments and applications. We also uncovered top features and benefits. Finally, we crafted the compelling value propositions for each top segment and applications.
Public relations and awareness. We re-launched the product line with an exclusive story with a leading trade publication, Network World. Next step was to secure more stories in leading networking, wireless, and business media. Over time, we grew awareness through several marketing channels. All told, we used strategic media and analyst relations communications and thought leadership programs.
Website, marketing collateral, and content. We provided new website content which launched in parallel with the product. We also created data sheets, application notes, customer case studies, and blog posts.
Channel marketing support. Additionally, we supported a new partner marketing program with a robust set of sales tools for resellers. The program included the full range of content assets. Hence, it had training, collateral, FAQs, webinars, and an ROI calculator. To support customers, we also created installation and user guides. Finally, we also created a cash incentives program and a live event strategy.
Result
Successful Channel Development for Rapid Growth and Acquisition
Over the course of three years, Orthogon Systems grew rapidly by tapping the US market. And in the process, it also penetrated the Americas markets. The key was tapping into top-tier corporate and government systems integrators and resellers. Without need for additional venture financing, Orthogon was able to fund growth through organic sales.
With soaring growth, a proven value proposition, and a solid market position, Orthogon Systems was acquired. Motorola bought them and continued the programs. The following year, the OS-Gemini product line was a $100M+ product line at Motorola.
Orthogon Systems is now a part of the Cambium Networks portfolio.