Are Press Releases Still Important?
3 Minute Read
Back in the day, press releases were the best – and only – way to get through to journalists. It used to be the way to communicate to the general public. Everything from major product release and partnership details to minor feature upgrades and personnel news got press releases. Everything was put on wire services like PRNewswire. At the time, a press release was a no-brainer. But now, are press releases still important?  What are the best uses of press releases today?
So, the future is now. The Internet has revolutionized the way communication works on all fronts. Journalists and consumers have many more avenues by which to gather their information. Social media posts, blogs, local ads…
There are many possibilities when it comes to getting the word out. And in the age of sharing and re-posting, any content can go viral in a matter of seconds.
So where does that leave the good old-fashioned press release? Is it still relevant in today's world, or is it more of an old-timey formality?
All in all, the overall answer to the big question – are press releases still important – is yes, but it's changed.  Read on for the best uses of press releases today.
Make Your Press Releases Count

Got something major to say? That's when you should consider making a formal announcement. Keep in mind that when people search for you, press releases tend to come up first. This means you should save them for the good stuff.
Stick to the Best Uses of Press Releases Today.
Think big. And we're talking major, company changing news. Some good examples are:
Big funding developments
Mergers and buy-outs
Product launches
Addressing items that are in the media's attention, e.g. security issues
While the press release is no longer the only way to get the word out, that doesn't mean it's rendered obsolete. In the age of the Internet, the press release still important, is still alive and well.
Also, small companies may want to consider the "official" feel of a press release. It helps to build a sense of name-recognition and credibility. These things can be a means to gaining brand momentum.
Know When to Blog It Up.
The truth is that nowadays, it pays to be more discriminating when it comes to picking a press release over a blog. Not every minor change requires a formal announcement, it's likely not one of the best uses of press releases today. Some topics that you may want to consider blog-worthy include:
New partnerships
New product features
Trade show announcements
Partner programs
So what's the difference in impact between a press release and a blog post? Both can announce the details of an upcoming product feature, right? True enough. But while both are voices of the company, they are communicated in very different ways.
In many ways, a blog is a story. It's an informal, person-to-person narrative. So, yes, you can (and should) use a blog to announce the same things that a press release covers. Yet, blogs read less like self-promotion and more like a personal conversation. This can go a long way toward connecting brand identity with the consumer base. There's something to be said for taking every opportunity to build persona, and blogging is a great way to do that.
Get the Best of Both Worlds



If you do issue a press release, consider blogging about it from a different angle. This way, you have the weight of an official press release, and some personal context provided by the blog.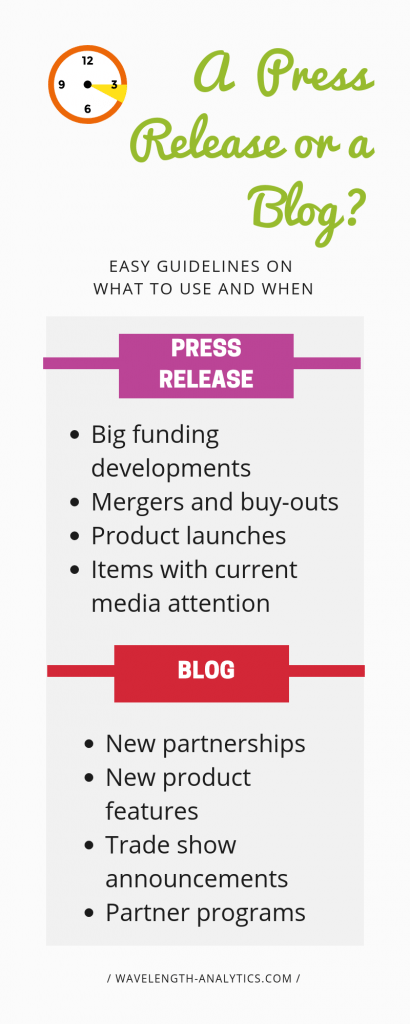 As an example, imagine that your small company put out a press release about its launch. The press release gives a run-down of the major facts. It introduces your company's founders, describes the product that you're making – all the good stuff.
The accompanying blog post fleshes out the facts brought up by the press release. It gives the backstory about why the founders built the company. It describes the journey that the business took to launch their product. It breathes life into the storytelling aspect of the brand.
We find a press release still important, and alongside blogs- have their increasingly defined roles in the marketing mix. Like any good team, both are relevant, and are best when in harmony with each other.
Under the Right Situation, We Find Press Releases Still Important

Skip the last rites, because the press release isn't dying. As methods of communication have evolved, so has the need for nuance. Blogs, once considered too informal to be useful, are now big parts of this conversation.
But blogs and press releases are two different voices in the same conversation. They're both important to the marketing mix, as both are methods of getting your message out to the market. When it comes to connecting with your audience and building a presence, why not sing out? Strike a balance between both methods of communication. Be smart about understanding when to use them, and reap the benefits of both.
The old ways of communicating haven't gone the way of the dodo. Instead, they've developed. It's up to us to keep up with them.
Hey! Friends help friends grow by hitting those share buttons!