Customer Data Technology and the Raging Market War
3 Minute Read
Big industry news came out yesterday when Salesforce bought Tableau Software. At $15.3 billion, this is its largest acquisition ever. It's also the biggest move Salesforce has made to add more data insights and customer data technology to its product portfolio. 
As an exploratory data analyst, I've not been a lover of business intelligence. This is because business intelligence and dashboards have had limited exploratory analytics capability.  In recent years, though, business intelligence has changed a lot – and so has my opinion of them. 
Dashboards: Key Battle in the Customer Data Technology War
In modern business, dashboards are lifesavers. Why? Exploratory data analysts like me don't scale, but business intelligence does. Furthermore, there's the ability to connect more and diverse data sources with relative ease. Something that's usually time-consuming when using data management and statistical analysis tools, might we add. 
So we've grown to see their value to certain types of analysts who don't need nor use powerful exploratory tools like R, Python, SPSS, or SAS. 
Dashboards are the Key Customer Data Technology for Customer Success.
Take customer success professionals. Customer success teams are a critical to of every "born in the Cloud" web-based company. Today's technology apps, as we all know, are both a blessing and a curse. It's easy for customers to sign up.  And it's just as easy to not use that app for which you pay a hefty monthly fee.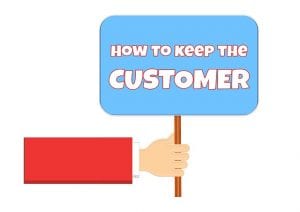 And, as everyone knows, apps that aren't used, go unloved and unloved apps are all too easy to stop paying for. but, customer success professionals don't need exploratory data tools to keep tabs on their portfolios. 
Instead, they need customer data technology that helps them quickly understand current status. With a great dashboard connecting diverse data sources, they get up-to-date, engaging reporting. So clearly, dashboards are key to helping them understand accounts that are at risk of churn. 
Tableau Fits Well in Salesforce Portfolio.
Which all brings us back to why Salesforce bought Tableau. Sure, the debate might rage as to whether they spent too much.  After all, Google paid $2.6 billion for Looker, a dashboard technology that ranks 14th in market share. But on the other hand, it's undeniable that Tableau is a perfect fit for the Salesforce product set. And with an impressive and large customer base, too.
The Tableau acquisition is also a perfect fit for the ultimate destination of the market race: the war for your customer data. 
Don't believe us?   
Customer Experience: Another Key Battle in the Customer Data Technology War 
The SAP acquisition of Qualtrics in November 2018 is another great example.  
SAP is the leading ERP and supply chain software vendor. At the same time, Qualtrics is all about measuring the customer experience – which uses data for many different communications channels. As SAP themselves stated, they're bringing "together experience data and operational data to power the experience economy".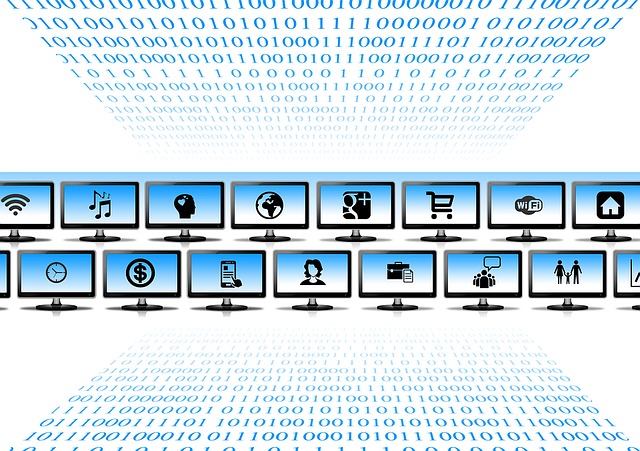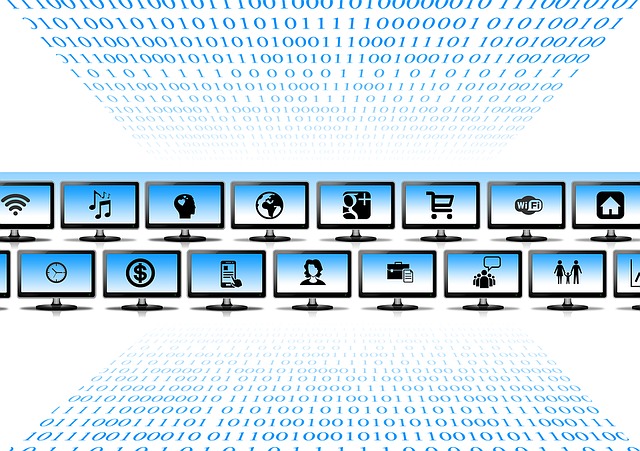 Now add machine learning to all that data. With the growth of Internet of Things, it's increasingly obvious that customer data fuels the world.   
So now, considering the trend of the war for customer data technology, enter another great example: Microsoft.   
Microsoft Announces Big Upgrades to Dynamics 365 CRM.
On June 10th, the very same day Salesforce announced its purchase of Tableau, Microsoft announced new features for its next major release of Dynamics 365 CRM and ERP.  Since April 2018, Microsoft has been moving fast into Salesforce territory with Dynamics 365 for Marketing.  
Uh – hold up. How did this happen?  
Sounds like the customer data technology war comes complete with clandestine spies. 
Anyway, let's get back to Dynamics 365 CRM.  They may rank 6th in market share for CRM.  But, although it requires extra license fees, Dynamics 365 CRM is a visible app to every Office 365 customer.  It obvious Microsoft has big plans for the Dynamics 365 CRM.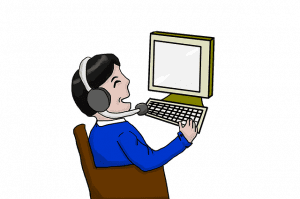 The next Dynamics 365 release promises to put a priority on ease of use, and it brings new users with simplified trial signups.  They'll add the usual CRM requirements: new email layouts, subscription list management, email A/B testing, and insights.  
According to Microsoft: 
The new Customer Insights app for Dynamics 365 applies artificial intelligence to analyze rich  pools of customer data collected from across other apps like Dynamics 365 for Sales, Service, and Marketing. Its standard functionality generates powerful analytical displays for each contact, which makes the information easy to understand and use.  
The integrated solution can: 
Push marketing interactions to the Customer Insights data lake to produce a

complete 360°

view for each contact.

Apply data cleansing, enrichment, and fuzzy matching.

Use segments created by Customer Insights to target customer journeys in Dynamics 365 for Marketing.
Remember that line in the Salesforce press release announcing the big acquisition?  Yeah, that one, that line about the 360 degree view of the customer?  Well, this Microsoft announcement sounds a lot like it, doesn't it?
Tableau & Microsoft: #1 & #2 in Dashboard Market.
If you're still not convinced, consider this May 2019 market share from Datanyze.   As the illustration below shoes, Tableau is the market leader and Microsoft is second with Power BI.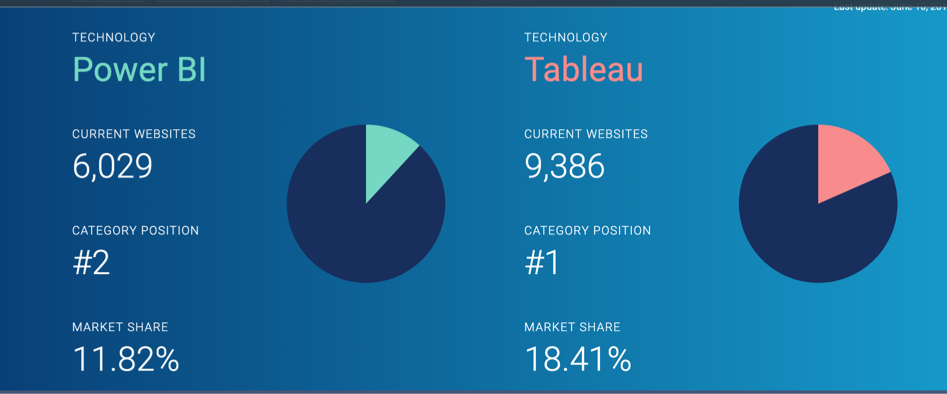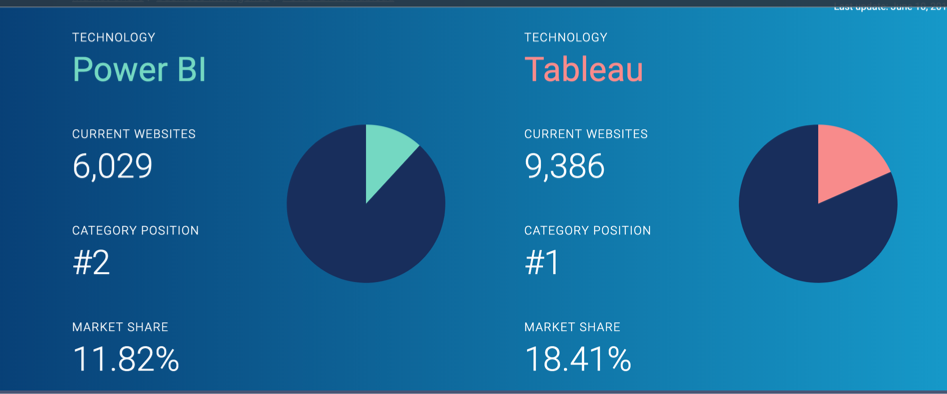 Looks like the ever-shifting ecosystem alliances, Microsoft and Salesforce, are getting ready to battle each other straight on. 
So where exactly will the next battle in the customer data technology war be fought? 
Artificial Intelligence: Next Battle in Customer Data Technology
It'll be in artificial intelligence algorithms, to be exact. Why?  Right now, almost everyone has access to almost all the same data.  If they don't own it, then they can trade for it.  Else, if that does not work, then they can always buy it. So, in the future, simply having data won't be enough.   
Competitive advantage — how an organization uses data for better marketing and customer retention — will be less about having data.  As we heard over and over again at our marketing tech conference last march, it's more about what the organization actually does with all that data. So we expect the customer data technology to change and a lot in the next few years. 
Hey! Friends help friends grow by hitting those share buttons!