Expect More Artificial Intelligence in Marketing in New Year
3 Minute Read
Digital and marketing technologies are continuing to integrate more and more artificial intelligence (AI)-based functionality. And marketing departments are embracing them. According to Salesforce's 5th Annual State of Marketing, they report that 29% of marketers use some kind of AI. This is up from the previous year's 20% level. So clearly there's growing impact of artificial intelligence in marketing.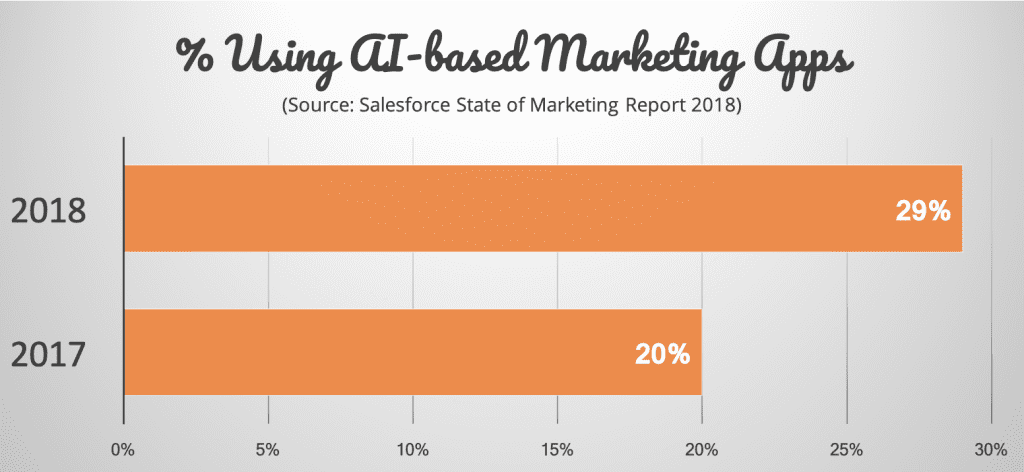 Usage, at first glance, seems high for such a new technology. However, AI – specifically machine learning–  has been in use for making product recommendations and to predictively score leads for a few years now.
But what happens in coming months? We expect there'll be much more use of artificial intelligence in marketing departments in 2019. We see three major trends…each moving at different rates of change.
Impacts of Artificial Intelligence in Marketing for 2019:
Marketing gets productivity benefits from AI
The of Integration of offline and online experiences continues
The year of the chatbot: Bots become commonplace
Marketing Gets Productivity Boost
In 2019, machine learning, a subsegment of AI, has real impact. Organizations not only experiment, but will experience its benefits. Of course, it will not be like the big bang changing the world overnight. Building and refining models, after all, takes time.
Rather, in 2019, machine learning's benefits will prove out with productivity gains. Some examples are assisting humans in creating content. There will be gains in effectiveness of campaigns or targeting.
Don't believe us?
Take two minutes to test drive SummarizeBot. Of all our marketing trends for 2019, we have a lot of confidence in this one.
Offline with Online Experiences Will Continue to Integrate

Right now, individuals who shop or attend events integrate the experience they're having with some kind of online experience. Attend a sports event, a concert or even a large conference lately? Every third person is interacting with a mobile device. Go to a store and buyers perform competitive searches on mobiles all the time.
Real Opportunity in Merging Online and Offline Customer Experiences.
Whether you like it or not, individuals integrate both online and real world experiences. So embrace it and make it an opportunity.
Retailers should use online methods to make in-store events more pleasant, to make them an experience we actually prefer to have. One obvious tool is integration of mobile technologies with the in-store experience. For example, a customer can use an in-store retailer app for personalized promotions. Or they can use mobile payments to speed checkout processes.
Augmented Reality Helps Make the Sale.
Augmented reality (AR) is another tool that will be increasingly used in-stores. For example, you might be able to see and feel what your living room would look like with that new sofa in it. You'll be able to see that new paint color on the walls.
Offline experiences are best served by embracing the opportunity of integrating online experiences. Together, they improve real-world experience. Improvements in beacon technology and location-based tracking are key. So are augmented reality and mini ads campaigns. Al of these converge. So in real world, online experiences will become increasing integrated everywhere we go.
Bots Become Commonplace
Chatbots, those little boxes that appear at the bottom of a web site, is another place you see artificial intelligence in marketing. But that's not all. They're software apps that are designed to start conversations. Designed to act like a real person, they either provide a written or spoken messages that provide the experience of a real conversation or interaction with an actual human being.
There are two primary ways chatbots are implemented and it's that either a web-based or standalone apps.
Chatbots Don't Get Grumpy.
Today, chatbots are most used for customer service. For example, if you call an airline, a nice lady asks you what you want. That's a chatbot and they're getting more and more effective. They're getting more engaging, and unlike people, they never have bad days and aren't impacted by anger.
Chatbots Instantly Engage.
In sales, chatbots allow you to strike while the iron is hot. When a visitor hits a web site, a chat bot chimes in just like a person answering the phone. At that point, you can choose to engage or well, not. Better for everyone than wasting time on forms, bad data, and emails people won't open.
Pretty soon, you won't be about to hit a web site without a bot asking how your day is going.
Artificial Intelligence in Marketing is a Growing Revolution
Chances are good, as a consumer, you interact with artificial intelligence already and you just don't know it.  As a marketer, you aprobably already use AI if you use a technology like Drift.
With processing power and data storage improvements, we've only seen the tip of the iceberg. There's much, much more to come.
Hey! Friends help friends grow by hitting those share buttons!